As you should know by now, the Convention was moved to the Sheridan Chicago Hotel & Towers from its longtime home at the Chicago Hilton and Towers. Overall, the change was a major improvement, especially considering how far the exhibition halls were from the various ballrooms at the Hilton.
Upon checking in, we were given this photo signed by Anthony Rizzo and Brett Jackson:
The autograph hunt worked out well and we were able to get a number of autographs. Also, for the first time in several years, the autograph hunt featured some current players and highly touted prospects.
We lined up at the Sports Authority booth and met Josh Vitters:
We next found super prospects Javier Baez (L) and Matt Szczur (R) at the Vine Line booth: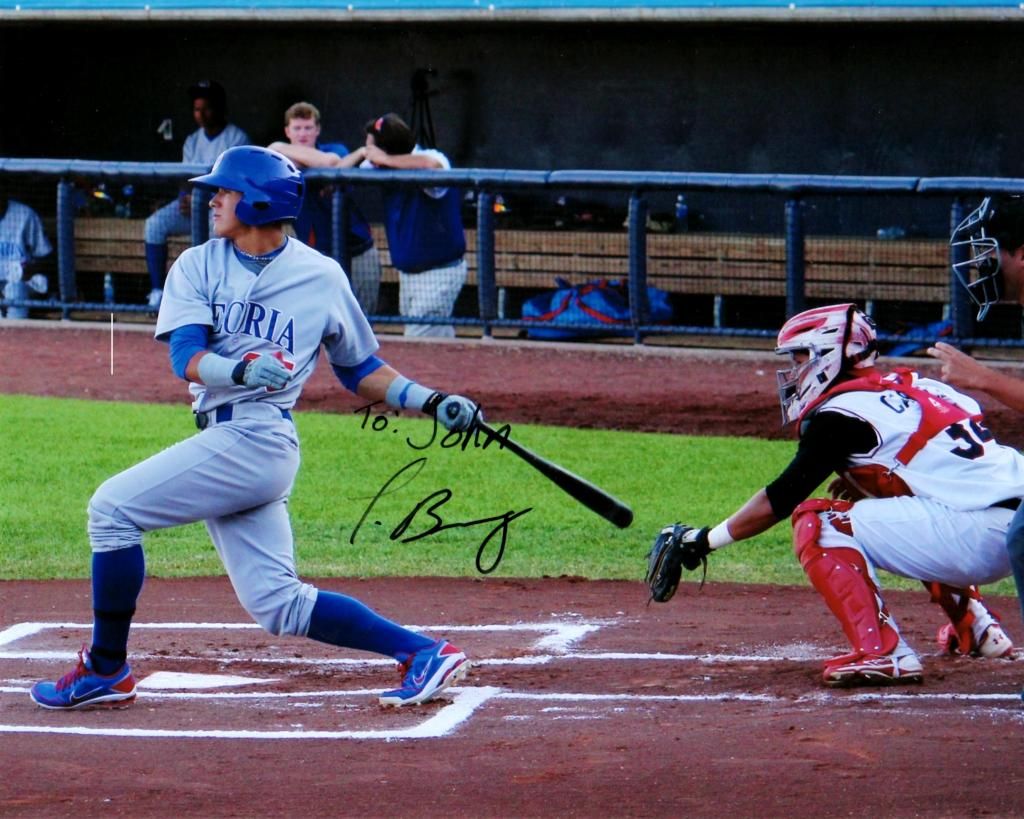 Javier Baez as a member of the Peoria Chiefs
and Glen Beckert, pictured here:
After the autograph hunt ended, we headed across the street to Lizzie McNeill's for our annual night with Guinness. Tim Stoddard was the only Cub to make his way over. We bothered him for a quick signature but there certainly was not the same vibe as in the prior years at Kitty O'Shea's where you were just about guaranteed to see handfuls of former players.
We were able to meet Jeff Fassero first thing Saturday morning. Next, we got to meet Matt Garza, who says he is ready to get back throwing off a mound but denied he has been working on a knuckle slurve:
And new this year was a system where the first 150 people in each line were given a "voucher" that guaranteed your autograph opportunity for that player.
They allowed anyone else in line not holding a voucher to then get an autograph as time allowed; however, as we waited for Matt Garza, newly acquired Scott Baker ended his hour-long session almost 10 minutes early because security would not allow anyone else to get in line.
We next went up to the kids only question and answer session with David DeJesus, Anthony Rizzo, Darwin Barney, Brooks Raley and Chris Rusin. As we were waiting, some of the minor leaguers from the previous session stuck around to sign some autographs. We got Robert Whitenack on the program.
We next headed upstairs to the ballrooms so my kids could meet Tony Campana:
Sunday
We got in line outside the ballrooms at about 7:30 a.m. with my kids hoping to get into the "Kids Only" line for Anthony Rizzo. I wanted to meet Darwin Barney. They opened the doors to the ballroom at about 8:30 a.m. and let us get into the respective queues. We were all successful, my kids getting to meet Anthony Rizzo:
We then headed back downstairs and were able to meet Jody Davis, who misses the competitiveness of his playing days, but mostly the paychecks!
Finally, we found Pat Hughes at his booth and chatted briefly. After that we were on the way home after another fun-filled Convention.