If you have any questions, just ask - cubsconvention@hotmail.com. And be sure to send along your photos and experiences after the Convention so we can share!
Please visit the Cubs Convention Fans Subreddit to share your thoughts on the Cubs Convention, who you got to meet, what presentations you attended, what you got autographed, what players and features you would like to see at the Cubs Convention or to ask questions.

Wednesday, January 27, 2010
2010 Cubs Convention Autograph Report
:
Friday
Autograph hunt: Bob Dernier (Comcast Booth) Jody Davis (Stage C)
Kitty O'Shea's: Randy Hundley, Tim Stoddard, Keith Moreland, Glen Beckert, Mike Quade
The autograph hunt featured some new areas this year (two booths in the registration area with Dave Otto and Steve Trout) but there did not seem to be many current players or any of the most popular former players (Banks, Williams, Sandberg, Dawson, etc.) signing during the hunt. Ryan Dempster was the lone exception, signing at the booth for his charitable foundation.
Saturday
In line: Carlos Marmol, Geovany Soto, Ryan Theriot, Derrek Lee (lottery winner)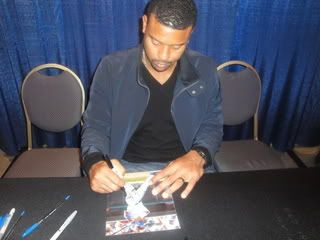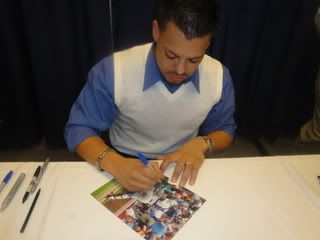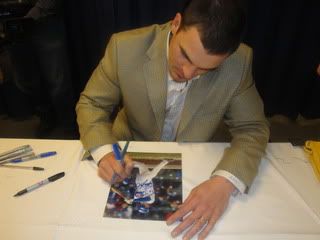 This convention seemed much less crowded in the autograph hall. The Cubs moved all of the lottery picks up to stages E and F set up in the International Ballroom, along with three scheduled non-lottery signing sessions with Bob Dernier, Ryan Dempster and Ted Lilly. This certainly helped alleviate some of the congestion.
Further, there were still rooms available when we checked in. I believe that there were thousands less people in attendance this year. (Seems as though some of the
fair-weather
die-hard fans stayed away this year.)
Finally, it seemed like the people in charge of scheduling the autograph sessions did a better job of aligning the sessions to be more balanced in terms of avoiding having two less popular players against a much more popular one, such that everyone crowds one line.
Kitty O'Shea's: Bob Dernier
Sunday
In line: Micah Hoffpauir, Randy Wells
The Food and Drink

This year there was only one food vendor on the convention floor. There used to be several choices in the past, so I cannot be sure whether we should expect an exclusive food provider in the future. Interestingly, this vendor touted on their banner that they cater weddings. That is sweet if you plan to serve hot dogs and nachos at your wedding reception.

They did not have any breakfasty-type items such as donuts or bagels. Boo. Next year maybe you could remember breakfast for us, especially vanilla long johns.

The lines were too long on Saturday around lunchtime so we went upstairs and got giant slices of Connie's pizza for $4 from the hotel, which seemed reasonable. They also had full pies for $20, which again seemed reasonable for convention prices.

Working against the food vendor was a stand giving out samples of bison hot dogs and bison sausage containing rice and asiago cheese. Sweet mama was this stuff good and they let you have as much as you wanted. Plus, bison is good for you. They claimed the bison dogs will be available at Wrigley this season.

Rock Star was giving out samples of lemonade (tasty) and cola (nasty.)

Harry Caray's had samples of a Harry Caray's restaurant branded root beer that was very good.
Thursday, January 21, 2010
2013
Autographs:
Matt Szczur
Pat Hughes
Jon Lieber
Glen Beckert
Tim Stoddard
Jay Johnstone
Jeff Fassero
Robert Whitenack
Steve Trout
2012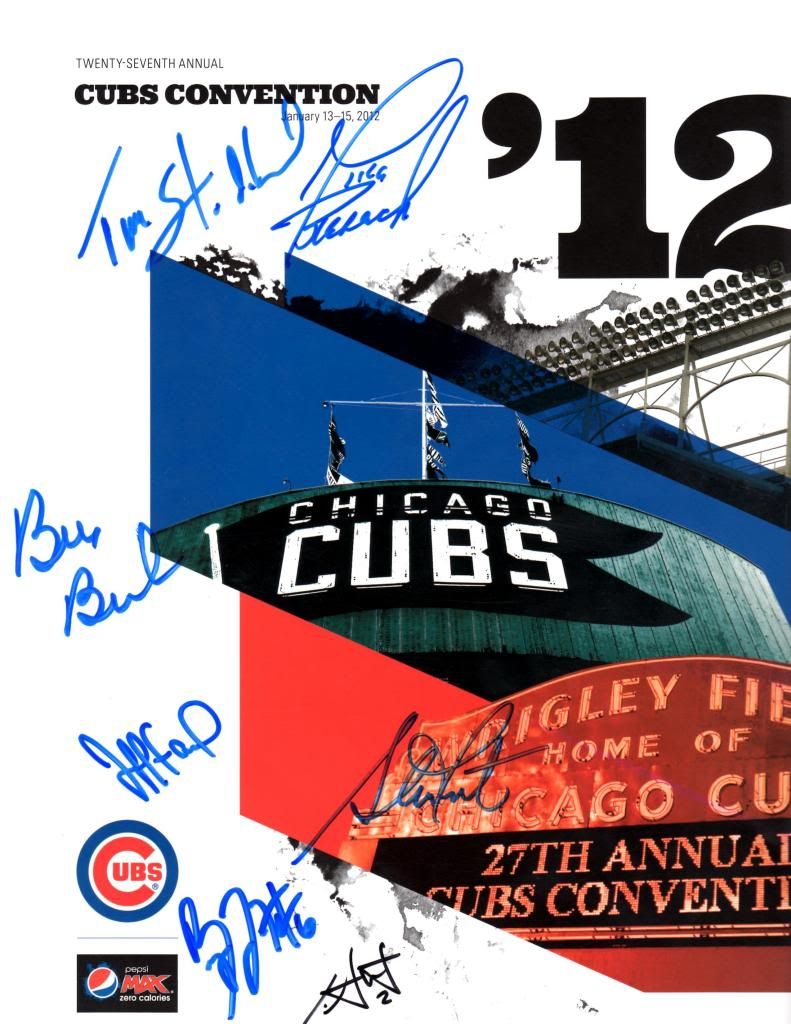 Autographs:
Tim Stoddard
Mike Bielecki
Bill Buckner
Jeff Fassero
Steve Trout
Brian LaHair
Ian Stewart
2011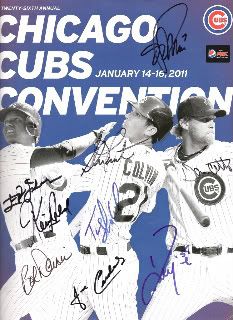 Autographs:
Dave Otto
Todd Walker
Steve Trout
Jose Cardenal
Ivan DeJesus
Bob Dernier
Keith Moreland
Tim Stoddard
Koyie Hill
2010
Autographs:
Randy Hundley
Tim Stoddard
Keith Moreland
Bobby Dernier
2009
Autographs:
Jim Hendry
Doug Glanville
Doug Dascenzo
Darwin Barney
Neil Cotts
Brandon Guyer
2008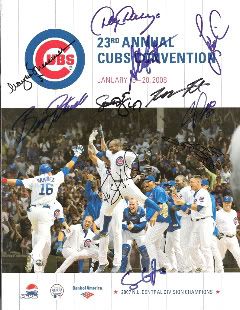 Autographs:
Wayne Messmer
Doug Dascenzo
Les Lancaster
Steve Trout
Billy Petrick
Scott Eyre
Rocky Roquet
Carmen Pignatiello
Tim Stoddard
Dave Otto
Sean Gallagher
2007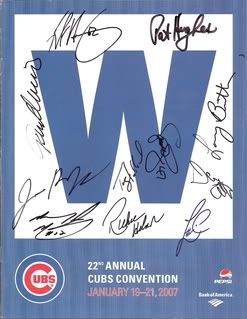 Autographs:
Gene Oliver
Richie Hebner
Tim Stoddard
Les Lancaster
Larry Biittner
Pat Hughes
Dave Otto
Scott Eyre
Bob Howry
Mickey Morandini
2006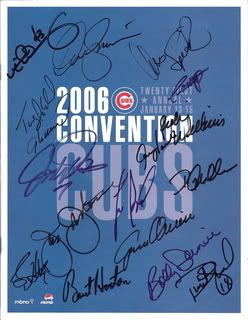 Autographs:
Michael Wuertz
Dave Kingman
Chris Speier
Gary Varsho
Jody Davis
Jay Johnstone
Burt Hooton
Bobby Dernier
Dwight Smith
Doug Glanville
Lee Smith
Tim Stoddard
Rick Wilkins
Todd Wellemeyer
Jerry Hairston, Jr.
Glenallen Hill
2005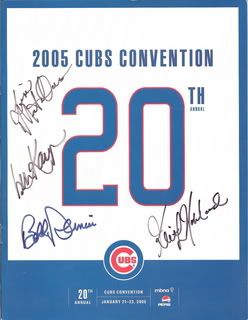 Autographs:
Len Kasper
Bob Dernier
Keith Moreland
2004
Autographs:
Wendell Kim
Gary Varsho
Jim Frey
Dwight Smith
Davey Lopes
Jim Hendry
Steve Trout
Dave Owen
Dickie Noles
George Frazier
Warren Brusstar
2003
Autographs:
Dave Veres
Don Cardwell
Gene Hiser
Gary Varsho
Nic Jackson
Tom Waddle
Keith Moreland
2002
Autographs:
Dave Kingman
Nic Jackson
Keith Moreland
Tim Stoddard
Bill Buckner
Augie Ojeda
Dave Otto
2001
Autographs:
Will Ohman
Kevin Tapani
Rondell White
Jody Davis
Mike Bielecki
Jose Cardenal
Julian Tavarez
Gail Fischer
Bill Mueller
Jason Bere
Don Baylor
2000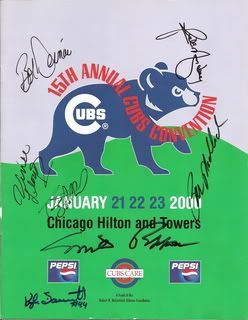 Autographs:
Bob Dernier
Vince Lloyd
Tim Stoddard
Milt Pappas
Kyle Farnsworth
Bill Madlock
Rick Monday
1999
Autographs:
Andy Pafko
Glen Beckert
Jon Lieber
Scott Sanderson
1998
Autographs:
Oscar Gamble
Glen Beckert
Kevin Tapani
Mike Hubbard
Paul Reuschel
Carmen Fanzone
Pat Cline
Don Kessinger
Mike Bielecki
Rodney Myers
Don Cardwell
1997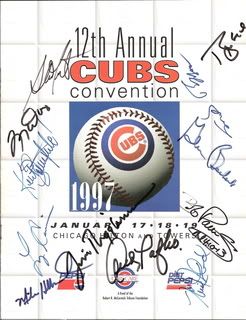 Autographs:
Steve Trout
Terry Adams
Kent Bottenfield
Larry Casian
Mike Hubbard
Jim Riggleman
Andy Pafko
Keith Moreland
Bob Patterson
Glen Beckert
Milt Pappas
Brian McRae
1996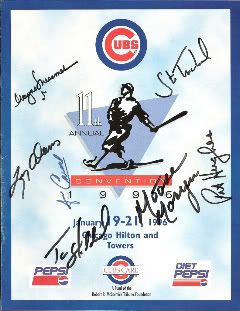 Autographs:
Wayne Messmer
Terry Adams
Jose Cardenal
Tim Stoddard
Walt Moryn
Pat Hughes
Steve Trachsel
1995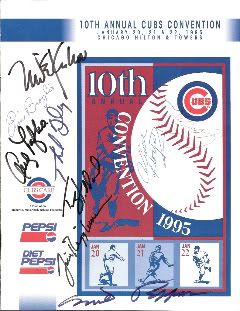 Autographs:
Mike Krukow
Ernie Broglio
Andy Pafko
Thad Bosley
Tim Stoddard
Jim Riggleman
Milt Pappas
Vince Lloyd
Dave Kingman
Sunday, January 10, 2010
Here is the list of attendees for this year's Convention:

Jim Adduci
Jeff Baker
Ernie Banks
Glenn Beckert
Justin Berg
Bob Brenly
Randy Bush
Marlon Byrd
Esmailin Caridad
Andrew Cashner
Welington Castillo
Tyler Colvin
Jody Davis
Andre Dawson
Ivan DeJesus
Ryan Dempster
Bob Dernier
Oneri Fleita
Mike Fontenot
Sam Fuld
Tom Gorzelanny
John Grabow
Jeff Gray
Angel Guzman
Jim Hendry
Koyie Hill
Micah Hoffpauir
Pat Hughes
Randy Hundley
Brett Jackson
Rudy Jaramillo
Fergie Jenkins
Jay Johnstone
Len Kasper
Crane Kenney
Derrek Lee
Ted Lilly
Carlos Marmol
Sean Marshall
Gary Matthews
Keith Moreland
Dave Otto
Andy Pafko
Milt Pappas
Lou Piniella
Mike Quade
Larry Rothschild
Jeff Samardzija
Ryne Sandberg
Scott Sanderson
Ron Santo
Carlos Silva
Matt Sinatro
Lee Smith
Geovany Soto
Tim Stoddard
Lester Strode
Rick Sutcliffe
Ryan Theriot
Alan Trammell
Steve Trout
Randy Wells
Tim Wilken
Billy Williams
Carlos Zambrano