If you have never been to a Cubs Convention, here are a few tips that will hopefully make your experience more pleasant:
What to Expect

Crowds
There will be a lot of people at the Convention. Friday is relatively crowded, Saturday is the most crowded and Sunday is much less crowded. Attendance fluctuates from year to year and is directly related to how well the Cubs did the previous season. Expect thousands more people to attend if the Cubs made the playoffs. Expect fewer folks when the Cubs finish at the bottom of the division. Expect a record crowd in 2017 as the Cubs celebrate the World Series championship with the fans.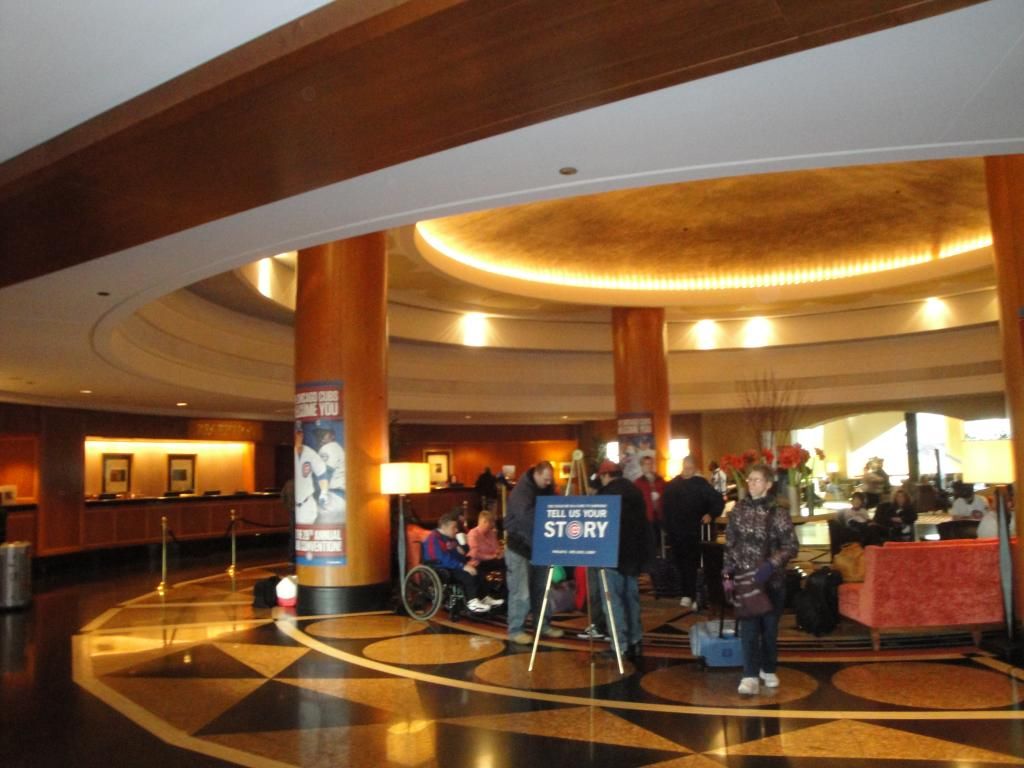 Sheraton Lobby
Registration and Entry
Cubs Convention calendar given at registration
On Friday you can register as early as noon. At registration (located down the hallway to the left in the above lobby photo), you will get your weekend pass (if you are staying at the hotel), Convention program, special Cubs Convention calendar, pull tab card for the chance to win a autograph opportunity and probably some advertisements.
This is what you want to see when you open your pull tab card
On Friday, the convention halls open at 2:00 p.m. On Saturday, the doors open at 9:00 a.m. On Sunday, the doors open at 9:00 a.m. and activities wrap up at noon.
Be prepared that the lines for entry to the autograph halls on Level 1 and ballrooms on Level 4 begin very early, with people starting to line up well before 6:00 a.m.
Layout
All of the convention halls and ballrooms are stacked vertically on four levels and are easily accessible by escalator and elevator.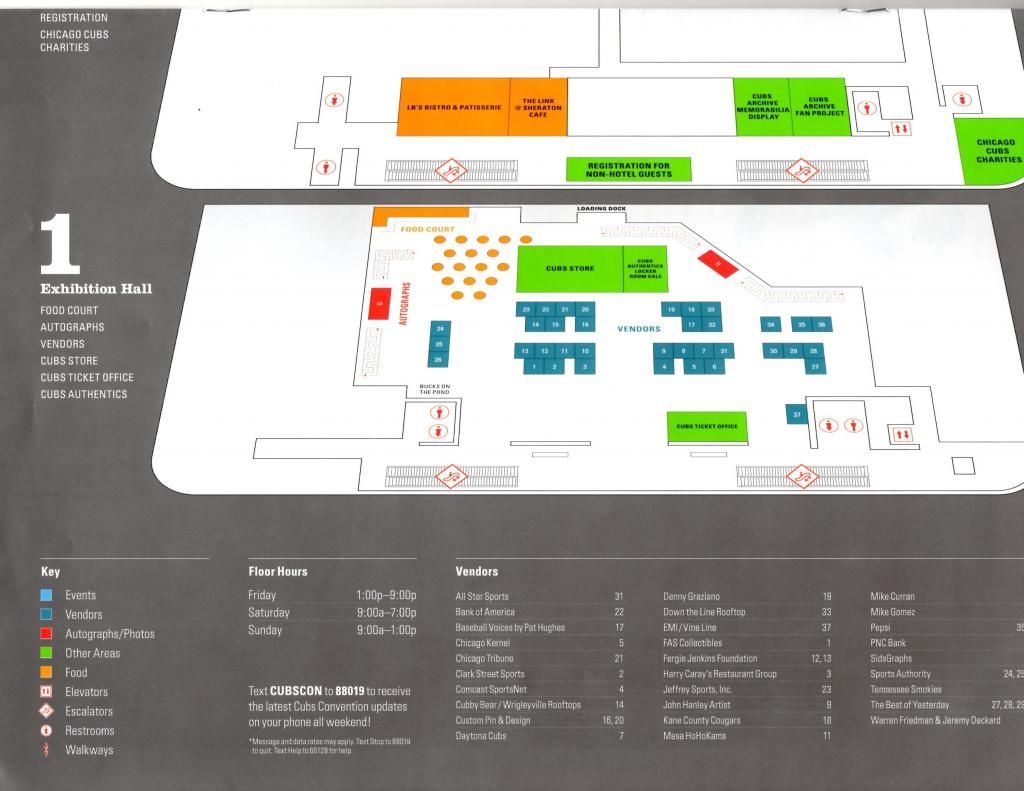 Floor Directory
Lines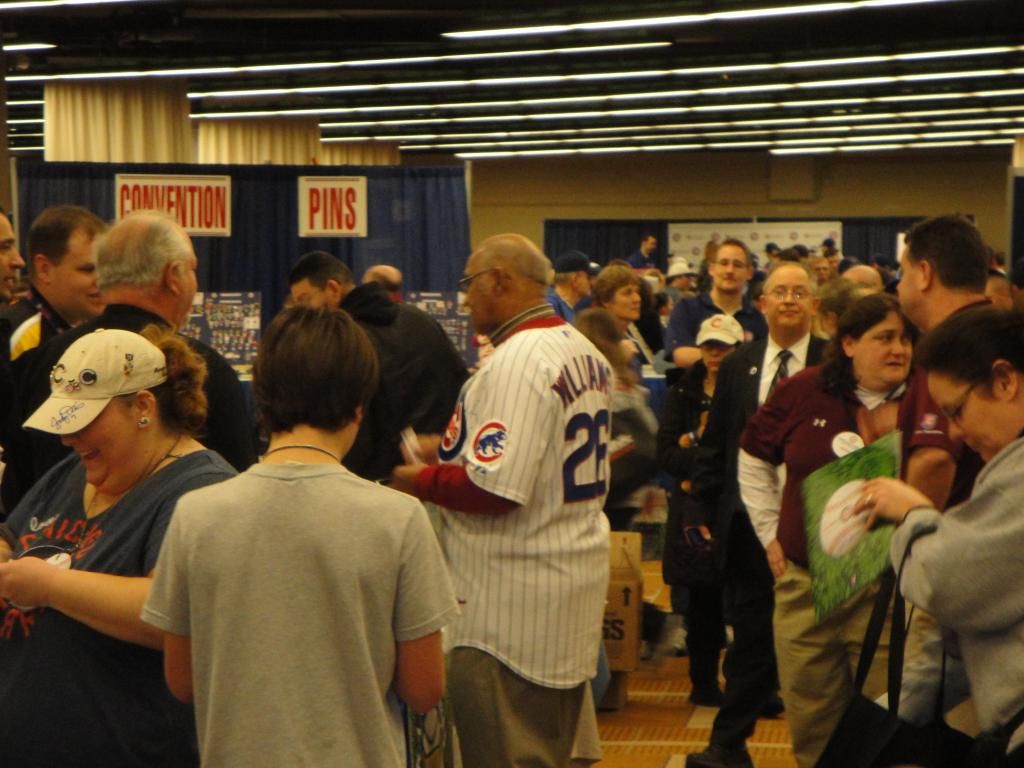 Billy Williams Strolls the Vendor Hall Before a Signing Session
Plan to wait in long lines for autographs, photographs, to get into the convention hall in the morning, for food and just about everything else.
Wear comfortable shoes. Bring a bag or backpack to carry your stuff. As long as you have your Convention pass around your neck, the ushers at the doors will not hassle you or ask to search your bag.
Feel free to bring in your own snacks and drinks if you are looking to avoid the lines and cost. The hotel offers grab and go type breakfast and lunch items at insane prices. For example, the hotel was charging $5.00 for a can of pop at last year's event.
Meeting Some Cool People
Considering that there are several opportunities to wait in line or sit in a seminar during the convention, you will have ample opportunity to meet the people around you. It is a good idea to introduce yourself to them, not only to be friendly, but so you can impose on them to hold your place in line if you need to run to the restroom or to grab a sip of water. Plus, I always like to see what other people collect and want to have autographed. Potential Facebook friends abound!
Seeing Some Weird People
The Cubs Convention is one of the single most kick-ass opportunities to see a bunch of Cubs crazies. If you are into people watching, this event is a bonanza.

Poor Cell Phone Reception

In some reaches of the convention halls at the Sheraton, cell phone reception can be spotty or non-existent so you may find it necessary to stand near the lobby windows that overlook the Chicago River to make calls or check voicemail. Texting usually seems to work okay, however.
Autograph Opportunities
When you register and get your pass, the program will contain a schedule of player appearances on various autograph and photo stages.
In order to get into the main autograph hall, you will want to line up outside in the lobby at least an hour or more before the player's scheduled start time to have the best chance to get to meet him. Also, make sure that you ask the folks in front of you which line they are in because there might be several lines that have been started to wait for different players.
Additionally, there are often autograph opportunities stages in the vendor hall at a sponsor's booth.
Comcast signing sessions 2016
In 2016, the Cubs used a system for getting autographs in which they counted off a predetermined number of people for each signing session and gave each person a voucher for the player's signature. Accordingly, you will know pretty quickly if you will be able to get an autograph from the player you would like to meet. If you do not get a voucher, the staff may let you wait in line behind the voucher holders in the event there is enough time at the end of the signing session to accommodate more fans, although this is a crap-shoot.
These tickets are given out at the front of the line
You will not have to pay anything additional for autographs from the players signing on the autograph stages. Keep in mind, however, that the players do not have any items at the table to sign for you so you will need to bring your item with you. If you don't have anything specific for the player to sign, the
Convention Program
is always a good choice.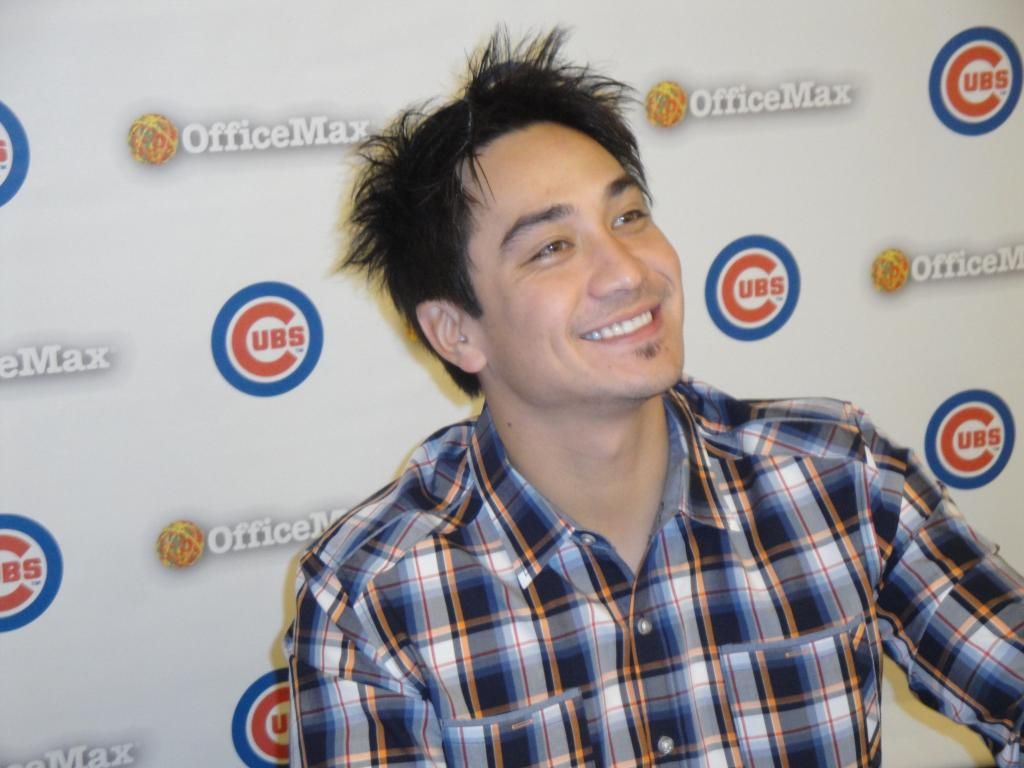 Darwin Barney
Typically, current Cubs players living in the United States will be in attendance. Current players that reside in other countries during the offseason may or may not be there.
David Ross
The slate will also include a host of former players of varying popularity such as Hall of Famers Billy Williams and Fergie Jenkins and lesser known players like Gary Varsho and Tim Stoddard.

The autograph session typically lasts an hour for each player. Once that player is done, the next will come up and the line will start moving again. If you would like to get an autograph from a particular current or popular former player at his scheduled time, plan to get in line at least two hours before he is scheduled to begin signing – seriously – these players are mobbed and have the longest lines. For example, people started lining up for Kyle Henrdick's late morning signing session at the 2015 Convention as soon as the doors opened at 9:00 a.m. On the other hand, retired players of less notoriety may not have much of a line at all and you should be able to meet Steve Trout and Milt Pappas, for instance, without much wait time.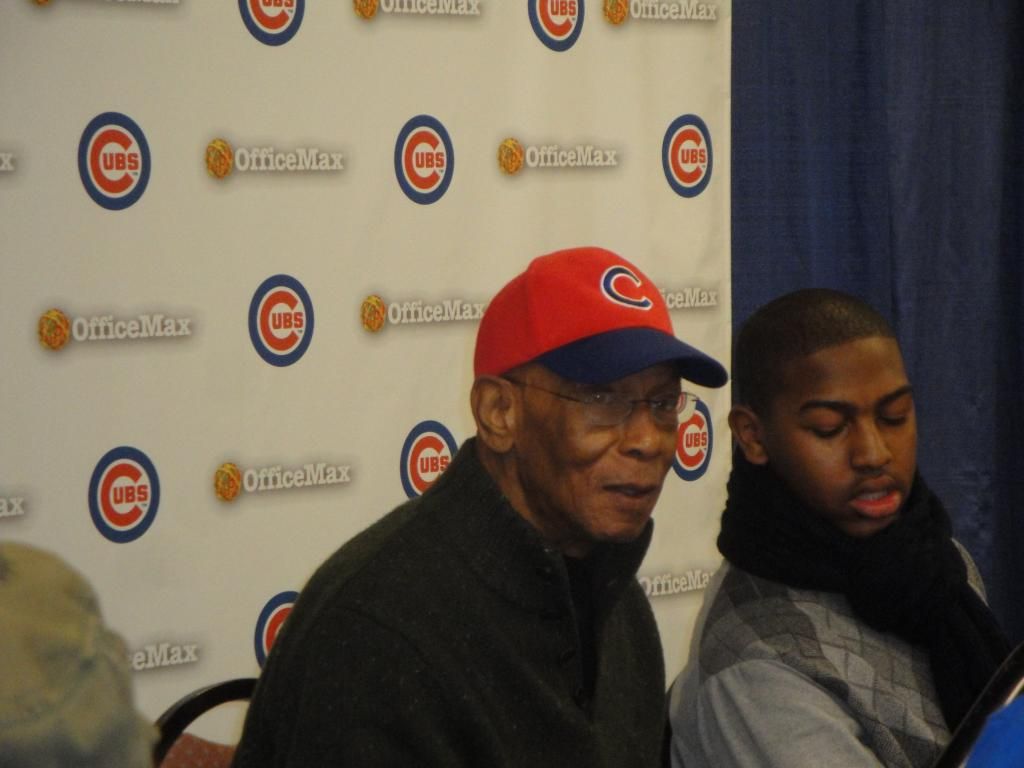 Mr. Cub
The players will only sign one autograph and will probably not pose for a photo with you although you can take a photo of the player for your scrapbook.
There is usually a kids-only autograph line so if you are taking anyone 16 years old or younger, they will have a nice opportunity to get current players' autographs. Expect this line to be long, too.
The schedule is posted at the entrance to the line for each autograph stage and throughout the Convention so look for one of the several signs like this: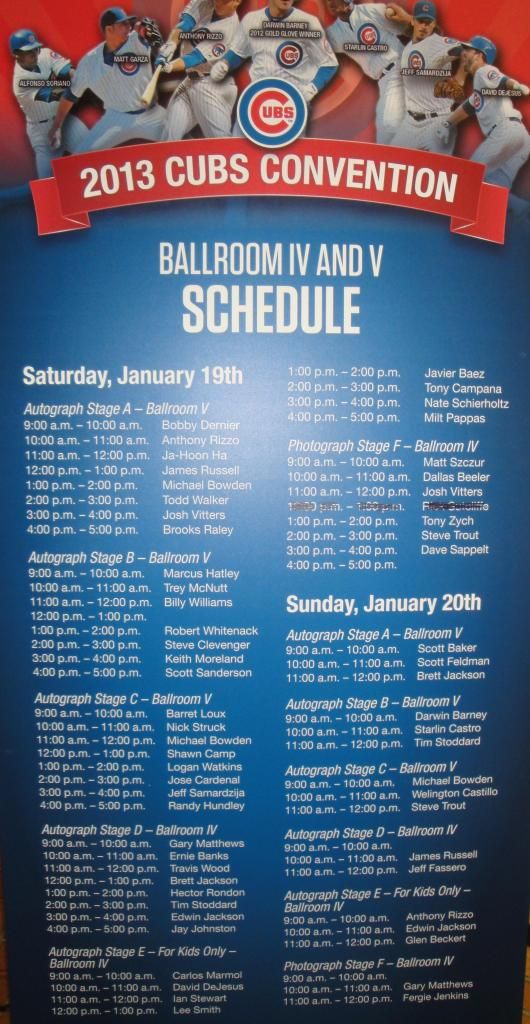 In the past, there was an "Autograph Hunt Game" on Friday evening. From 6:00 p.m. to 6:45 p.m. players/former players sign autographs at various "secret" locations throughout the convention floor. The locations were listed on a map that was handed out at the end of the Opening Ceremonies.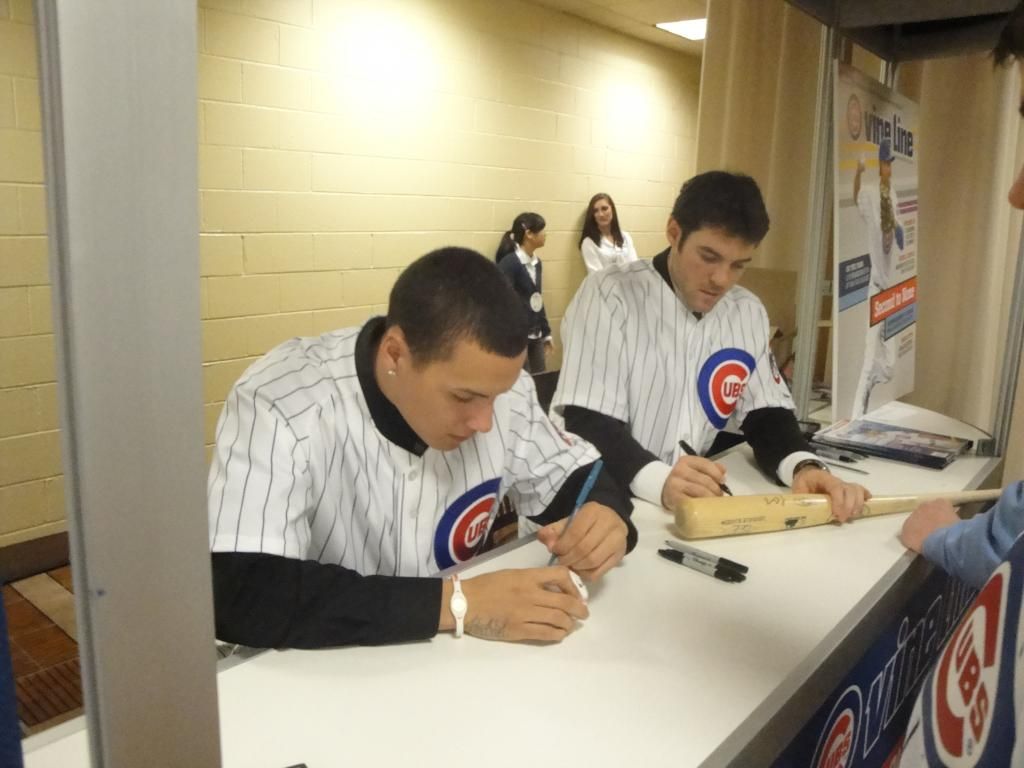 Javier Baez and Matt Szczur sign autographs at the Vine Line Booth
We had been very pleased over the years in being able to meet Ryne Sandberg, Fergie Jenkins, Ron Cey, Rod Beck and several others in the autograph hunt game on Friday night. The autograph hunt then changed somewhat and no longer featured any high profile former players or any current players, giving way to former players and minor league prospects.
The format of the Autograph Hunt Game was changed in 2015 and five stages with (then) minor leaguers such as Addison Russell, Kyle Schwarber and Kris Bryant were the only autograph hunt locations. The Cubs used the same format in 2016, offering Dan Vogelbach, Jeimer Candelario and Eric Jokisch, among others.
Gone is the multiple signing locations all over the hotel that made the game so much fun. Hopefully the Cubs will return to the old format for the upcoming Convention.
Photo Stages
You can pay for a photo with the player on the photo stage and they will typically autograph the cardboard photo frame given to hold the picture. The photos are printed while-you-wait, so you can take it with you. You can also get a picture with the player for free on your own camera, but that player may not give you an autograph. The player will typically not autograph items other than the generic cardboard photo frame; however, you may have some luck depending on the player and the security there. (For instance, Rick Sutcliffe was nice enough to sign a baseball card for me instead of the photo frame.)

Expect to wait in a long line for photos, too, and plan to get in line early (perhaps two hours or more) if you want a photo with a popular player.
Paid Autographs
Fergie Jenkins typically has a booth where he will sign autographs in exchange for a $20 donation to his charitable foundation. He has also lined up other players in the last few years that will sign for the same donation such as Lee Smith, Jay Johnstone, Dave Kingman, Bill Buckner, Jody Davis and Hall of Famers Rollie Fingers and Gaylord Perry. If you are willing to pay, the line is much shorter and the money goes to a good cause.


You can expect throngs of people hanging out in the lobby and near the elevators waiting for players to come through. This can be a great way to get autographs as long as you don't mind standing around in a lobby waiting with no real guarantee you will see anyone.
Some of the players will hang out in the hotel bars and are cool about chatting and giving autographs. At the Hilton, we used to have exceptional luck getting autographs and chatting with former players at Kitty O'Shea's. At the Sheraton lobby bar we have seen only Bob Dernier and Tim Stoddard hanging out in the lobby bar on Friday nights.
Sometimes, you might ride in an elevator with a player or run into one randomly in the hallway, too.
Seminars/Presentations
The Cubs also put on a number of panel discussions, clinics and games that are free to attend.


For Kids Only Press Conference
For example, some of the past presentations have included: Meet the Owners, Meet Cubs Baseball Management, Cubs Jeopardy!, Baseball in the Dominican and the For Kids Only Press Conference. These are usually pretty interesting and are well-attended. As you may expect by now, get there early so you can get the best seat.
There are also skills clinics for kids presented by former players and coaches like batting cage instruction with Jody Davis, Keith Moreland, Randy Hundley, Jay Johnstone and Gary Matthews; and pitching instruction with Steve Trout, Scott Sanderson and Tim Stoddard.
There may be limited autograph opportunities following these presentations and clinics but there are no guarantees that the players will sign for anyone.
Miscellaneous Tips
Bring your own Sharpies, pens or other writing instruments so you will be prepared for any random autograph encounters.
If you need a specific type of fabric marker to get a jersey signed, a metallic marker for a helmet or wish to have a specific color, bring your own, just in case.
Keep your items organized. Consider putting baseball cards or photos in alphabetical order by name.
Sharpie will run on glossy cards so rub your thumb over the face of the card first to dull the gloss and to get a surface that will hold the signature better.
The Cubs will typically have official baseballs available at their booth. They also sell grab bags that are filled with mostly promotions crap from the previous season but they do sprinkle in some nice autographed items and ticket vouchers that might make the purchase worthwhile. They usually go very fast on Friday, however, so get there early.
Finally, have fun and don't be a jerk.