I collect autographed 8x10 photos and this was a good convention for me as I was able to get three new personalized 8x10s: Todd Walker, Tyler Colvin and Carlos Zambrano. I was also able to get a bunch of other autographs on baseball cards and the convention program.
Friday:
Check-in
- as a convention guest, the person who reserved the room was given an autographed 8x10. We got new manager Mike Quade: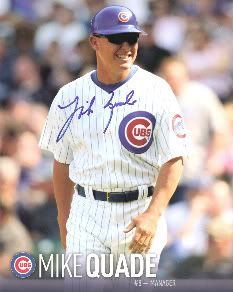 Autograph Hunt Game
- the crowds seemed even lighter than usual, which was nice. We got in the Stage B line at about 5:00 p.m. and met Steve Trout: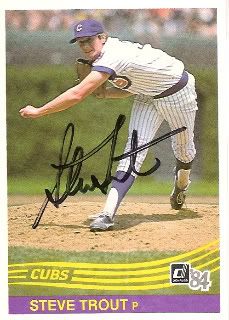 After walking around to see who else was signing, we found Todd Walker at the Comcast booth. Walker had not been to a convention previously so he was one of the former players that I wanted to meet.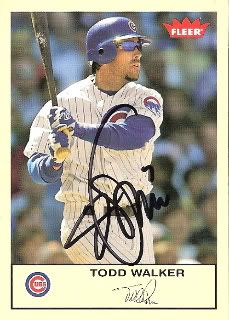 Kitty O'Shea's
- we then headed up to the hotel bar, Kitty O'Shea's, for dinner and an evening with Guinness. Jim Hendry came in the bar and chatted with some folks for a while. We were hoping to ask him whether he has any other Japanese players on his radar, in light of how well the Fukudome signing has panned out; however, he did not seem interested speaking with us.
A little later, Kitty O'Shea's regulars Tim Stoddard, Bob Dernier and Keith Moreland stopped by. In addition to the program, each was nice enough to sign these cards:
Tim's friend thought this card was hiarious because he had a head full of hair. She snapped several photos of him with the card.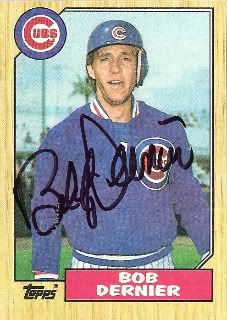 Bob thinks that a hippo would win in an animal battle royale. I was not able to convince him that a tiger is superior because of speed and climbing ability.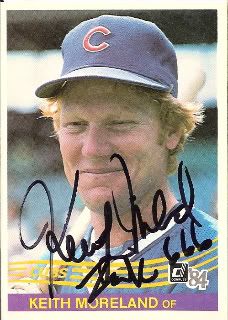 I would like to think that I am the only person that has a card signed, "Keith Moreland Zonk 666." Metal rules.
Saturday:
In line
-
Tyler Colvin was signing at the Sports Authority booth. He told me that he is not sick of getting questions about his freak chest injury, he is feeling very good and ready to get the season under way.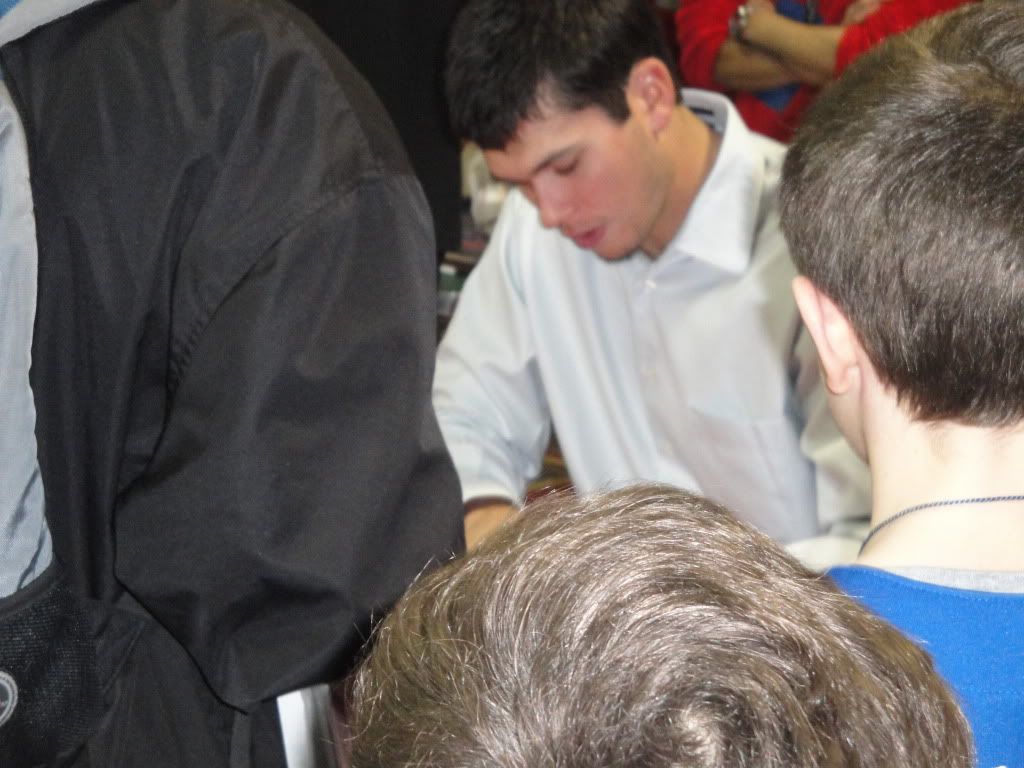 I was feeling pretty good that I had won the lottery and gotten a ticket for Aramis Ramirez. He has never been to the convention and this might be his last year with the Cubs; therefore, this might have been the only chance to have met him.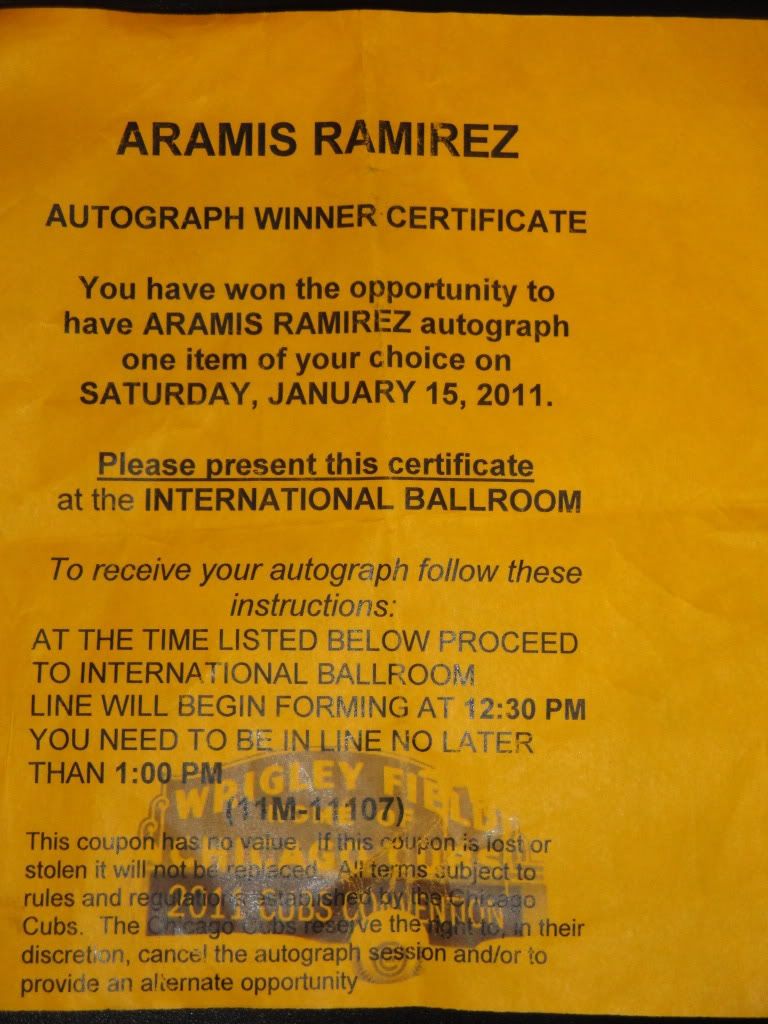 I got in line at 12:30 p.m. as the ticket indicated and waited downstairs for quite some time. When we were finally led upstairs to the International Ballroom a little after 1 p.m., we were shocked to see that the line was still at least 200 or more people deep. When Ramirez's time ended at 1:30 p.m., he got up and left. I was still at least 100-150 people from the front of the line. Cubs security told us that he had to get to a radio interview and could not stay. They then asked us to write our addresses and phone numbers on the back of the ticket and promised that someone from the Cubs' marketing department would send us some type of autographed item.
It was revealed later that someone had printed counterfeit tickets for both the Aramis Ramirez and Billy Williams lottery signing sessions and this obviously had a great impact on how slowly the line moved. I was disappointed not to have met him or gotten a personalized 8x10. The Cubs came through and sent me an autographed ball shortly after the season started...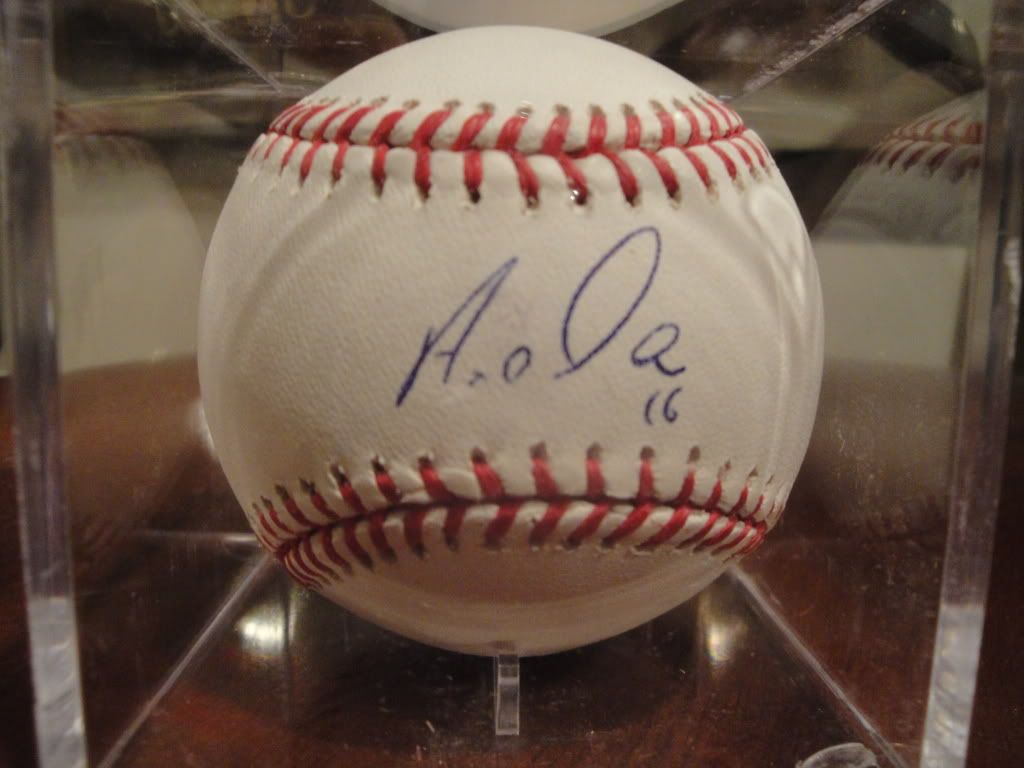 After the Ramirez debacle, I was able to stay in line to get Carlos Zambrano. One of the vendors had actually given us a ticket for the Zambrano session because she could not use it. That was awesome.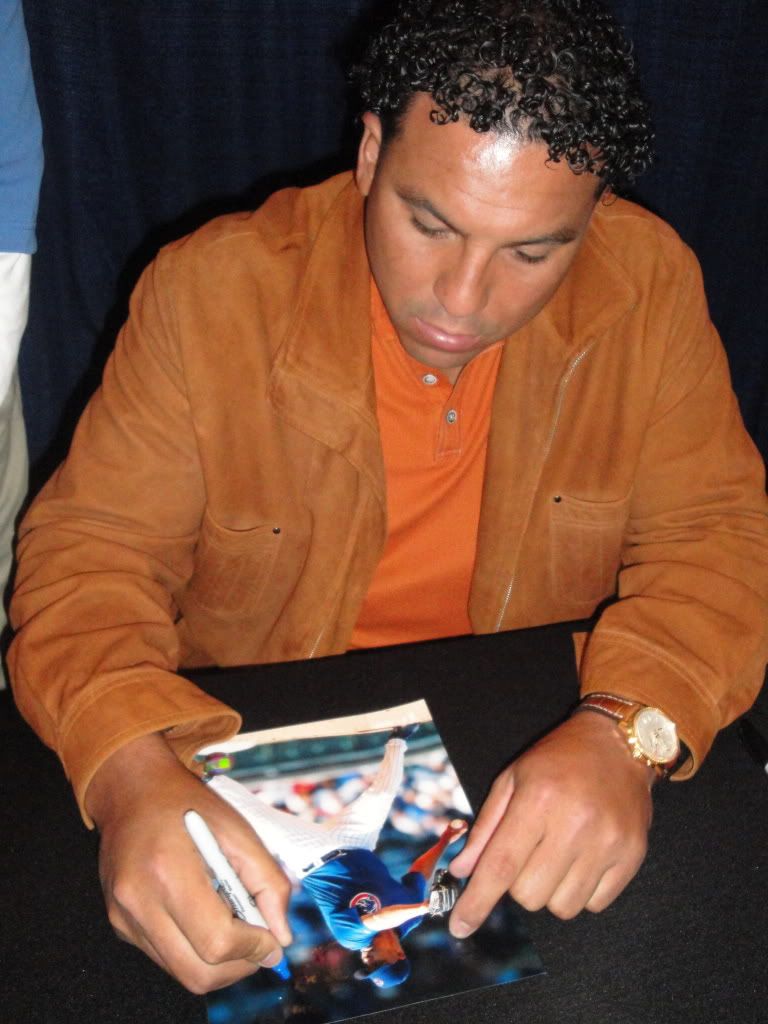 I headed back downstairs and was able to get Dave Otto on the program and Ivan DeJesus on a card.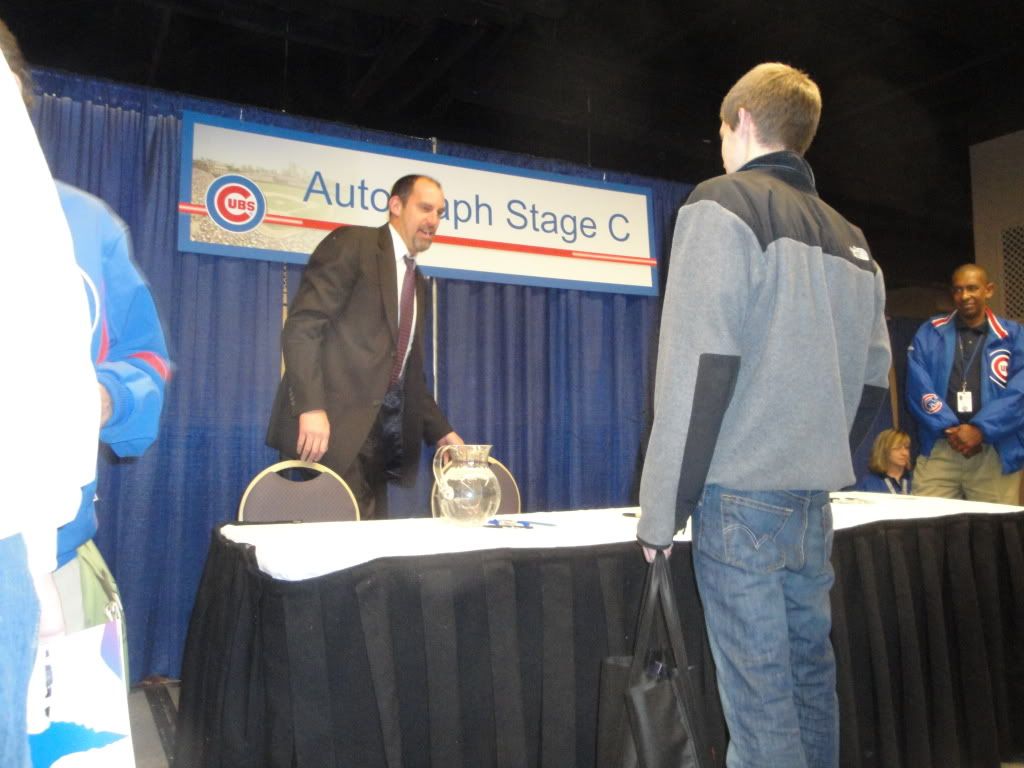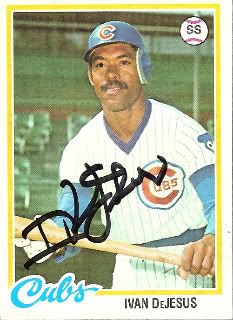 Sunday:
In line
-
Jose Cardenal was very personable with me and my kids. My youngest son had a mini helmet that he was having signed. Jose took the helmet and put it on his head, explaining that he used to have so much hair that his helmet looked very small just like the one my son had. He got a good laugh out of everyone within earshot.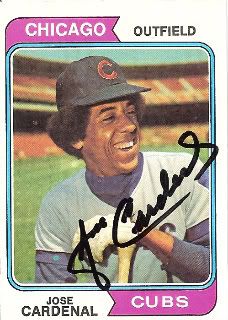 The last autograph for the weekend was Koyie Hill on the program...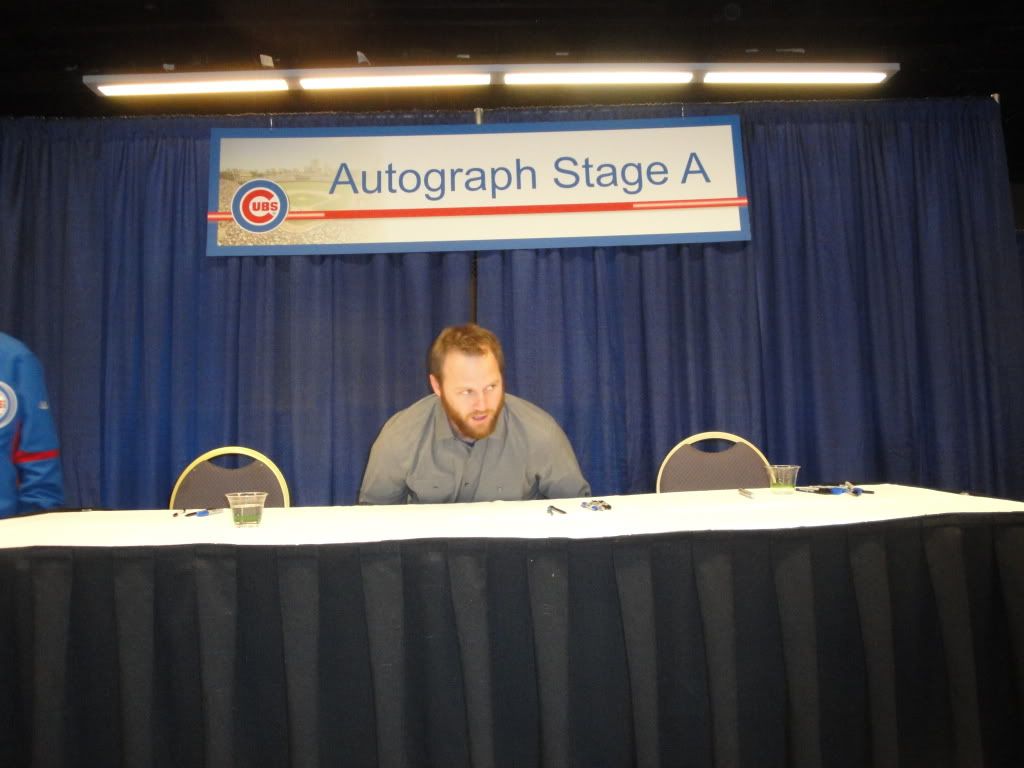 and we were off, getting home just in time for the Bears-Seahawks kickoff.
Great weekend, tons of fun and can't wait to do it again next year!