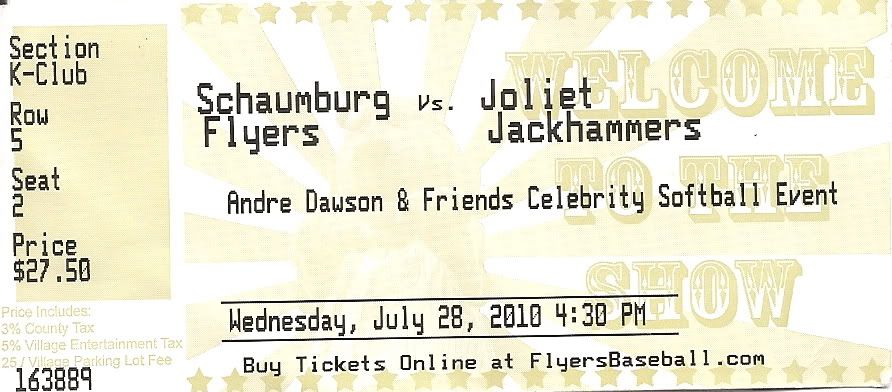 I found out about the
Andre Dawson
& Friends Celebrity Softball event in March and bought tickets early with the hopes that I would be able to get the autographs of
Bruce Sutter
and
Mitch Williams
, neither of whom have been at the Cubs Convention as long as I have been attending. Seeing Andre Dawson just days after his induction in the Baseball Hall of Fame would be cool. And
Dale Murphy
was one of my favorite non-Cub players as a kid.
Andre Dawson at the plate.
The other players/celebrities scheduled to appear included:
Vida Blue
,
Bill Buckner
,
Gary Carter
,
Warren Cromartie
,
Leon Durham
,
George Foster
,
Dwight Gooden
,
Bill Madlock
, Steve McMichael,
Al Oliver
,
Dave Parker
,
Gary Sheffield
,
Dwight Smith
,
Lee Smith
,
Jerome Walton
, George Wendt (a no-show), Otis Wilson and
Don Zimmer
.
My friend and I arrived at about 3:30 p.m. for the 4:30 p.m. match up between the Joliet Jackhammers and Schaumburg Flyers. As we entered, we each received a stuffed animal (that frankly looks like an eagle, not a hawk) wearing a custom Andre Dawson jersey.
By the time we found the picnic area behind left field where the autograph sessions were being held, there was already quite a line.
We were informed that the players would be signing in rotating groups (but that Andre Dawson would be staying the entire time), that there was no set schedule and that the players would absolutely not sign anything except the $5 commemorative program. Bummer. After some hemming and hawing, I plunked down the cash for the program with the hope that I might be successful having my own items signed, if I asked politely.
Dale Murphy
Dwight Gooden
Gary Sheffield
Lee Smith
The line moved rather slowly as the first group of about 10 players started to sign. At this point, we were not able to see who was up there. After about two hours of waiting in line, we finally got to the autograph tables. I was able to get the autographs of Jerome Walton, Vida Blue, Lee Smith, Don Zimmer, Dwight Smith and Bill Madlock on the program, Steve McMichael, Al Oliver and Mitch Williams inside the program and Steve McMichael signed and personalized an 8x10, Otis Wilson signed and personalized an 8x10 and signed a card, and Mitch Williams signed a card, too. Everyone else refused to sign anything but the program. We walked right past Gary Carter - that guy still bugs me. Unfortunately, no Bruce Sutter or Andre Dawson. Oh well.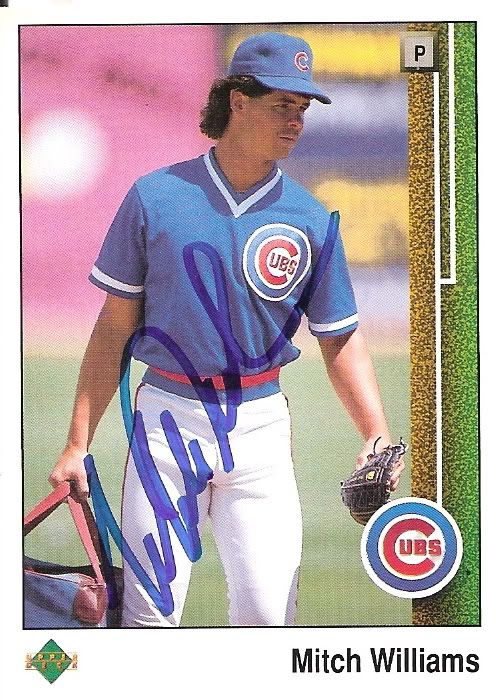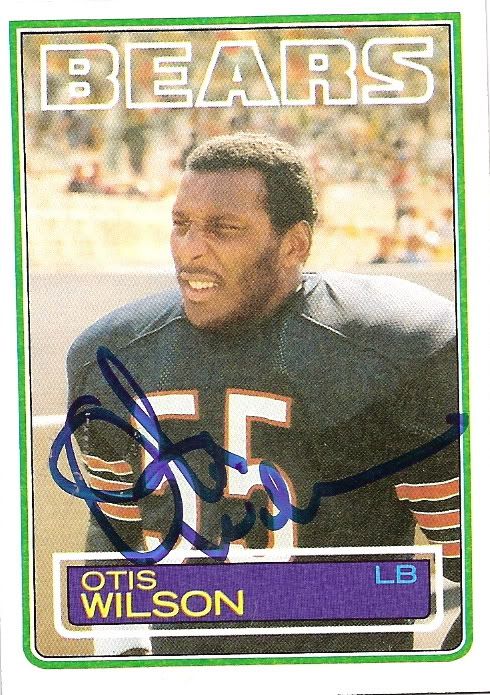 We headed to our seats, sitting down for the first time in the 8th inning. The lowly Flyers were getting spanked and there was not too much to see in the last inning and a half.
The celebrity softball game, on the other hand, was very entertaining. It was bizarre to see this seemingly random group of former players, including several Hall of Famers, MVPs, Dawson's former teammates and Superbowl XX Champions playing a softball game at an independent minor league stadium. Dave Parker pitched and never took off his Bluetooth receiver. Al Oliver, 65 years old, could still rip the ball but deferred to a designated runner. Gary Sheffield, the youngest player on the slate, acted as one the team's managers and did not even play. Don Zimmer got the boot after arguing a call. Dawson can still hit, too.
The game ended abruptly at the end of the fifth. I guess the scoreboard operator was denied overtime because he had already packed up and left so I have no idea of the final score.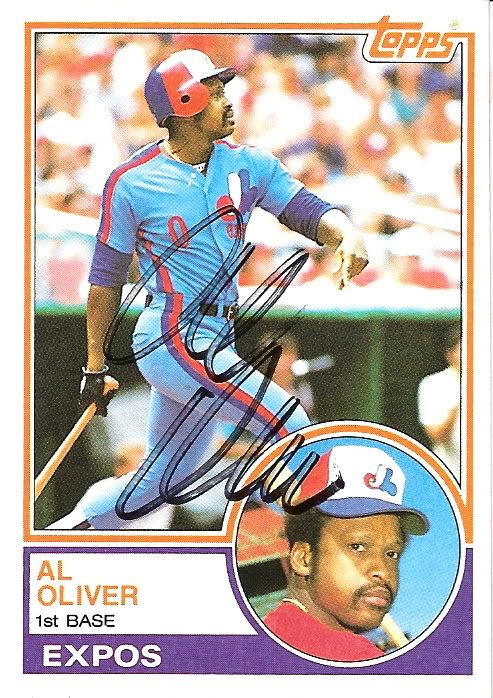 After the game, we hung out with Al Oliver briefly in the parking lot while he was waiting for his ride back to the hotel. He still had the ball he had kept, claiming it was his 3000th hit.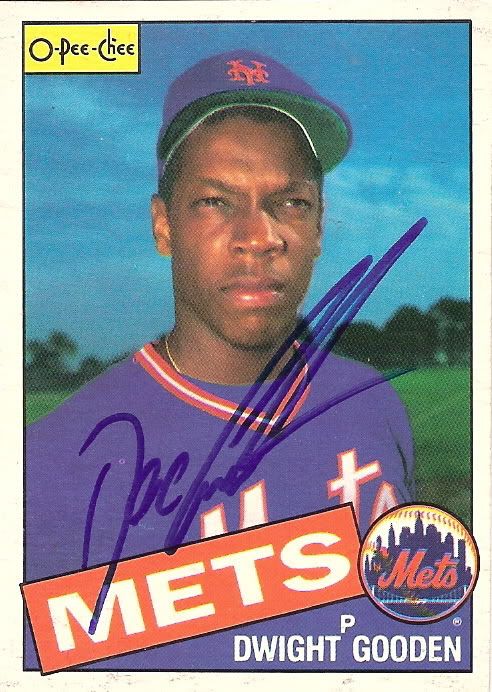 Dwight Gooden's flight was late and although he was not in time for the game, he showed up at the park after the game was over and signed for everyone that was still left.
It was a weird day but a lot of fun and I got a lot of good autographs. Here's to hoping Bruce Sutter makes an appearance soon at the Convention. Not too much to look forward to this postseason...